Brooklyn Real Estate Attorney Practicing for over 32 years.
Brooklyn Real Estate Attorney Robert Howe has built his practice in Brooklyn for over 30 years.  Not all Attorneys are Brooklyn real estate attorneys.  When hiring an attorney for the purpose of a real estate transaction it would be wise to hire someone who specializes in the area of real estate. Brooklyn Real Estate Attorney Robert Howe not only represents clients, he is also many times the Attorney for the the bank side of real estate transactions. Attorney Robert Howe has helped thousands of home owners in Brooklyn.  He helps his clients dreams come true.   His clients have purchased coops, condos and private residential homes, as well as multifamily dwellings.
Robert Howe  has lived in Brooklyn for over 30 years.  His practice is located at 251 86th Street Brooklyn NY 11209. 718-748-9700 click on this link to learn more about Robert Howe Brooklyn Real Estate Attorney – Robert Howe
Brooklyn Real Estate is still booming
We have weathered the storm, and now now hopefully things are getting better.  If you own Brooklyn real estate  you know the purchase of the property is not the end all or be all.
Purchasing the home is just the beginning of the journey.  As Mike Baglivo a home inspector, and part of our team loves to say, "you wouldn't buy a car without knowing how to use it, so why would you buy a house without knowing everything there is to know about it.
Speaking of Brooklyn real estate transactions, most would not be completed without the assistance of Mortgage companies.  Annette Fisher, CSA – Certified Senior Advisor, NMLS 67606,  is also Loan Originator at Fort Funding Corp., 7016 Fort Hamilton Pkwy., Brooklyn NY 11224 Tel.: 877-228-4404, Cell:  347-291-7479. Annette is also the Founder of PESID, People Empowering Seniors Independence & Dignity, a networking group focused on developing resources for seniors.
Robert Howe is a Brooklyn real estate attorney with over thirty years of experience, as well as the President of the Third Avenue Merchants Association.  The bottom line is if you are looking to buy or sell Brooklyn real estate, Attorney Robert Howe is your guy.
Reverse Mortgages Brooklyn and Renovation Loans
Call 877-228-4404 Fort Funding Corp., NMLS 39463 for more info.
Annette Fisher, Loan Originator, NMLS 67606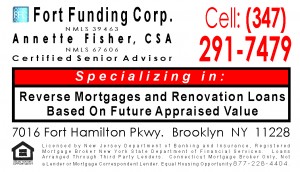 NMLS# 39463
-Registered Mortgage Broker – New York State Department of Financial Services
Loans Arranged Through Third Party Providers
-Correspondent Residential Mortgage Lender – Licensed By The New Jersey
Department of Banking and Insurance – when Fort Funding is acting as a broker,
it does not make any mortgage commitments or fund any loans.
-Licensed Mortgage Broker – Connecticut Department of Banking
Mortgage Broker Only, not a Mortgage Lender or Mortgage Correspondent Lender
Reverse Mortgages New York Allow You To Purchase a Home.
Did you know you can purchase a home with a reverse mortgage.  Imagine selling that home that is too big for you and downsizing.  Well folks who are 62 and over can use a reverse mortgage to make there purchase.  If you are interested in purchasing a condo the condo association needs to have been pre FHA approved.
Give me a call and I will let you know where you can find condos that have FHA approval.  You still will need to qualify the mortgage.
Annette Fisher, Licensed Real Estate Salesperson, Cell: 347-291-7479,  BRESRE Realty Inc.
Please note I'm also employed as a Loan Originator for Fort Funding Corp. NMLS 39463  877-228-4404
Brooklyn Real Estate Experts in Bay Ridge Brooklyn packed a room and real estate knowledge was readily available.  Whether you were looking for a mortgage, home improvements, electrical answers, title searches, legal advise, exterminating, home inspection, insurance, organizing talent,  you could find experts in the real estate field to give you answers.
Bay Ridge Brooklyn has managed to stay above the falling house curve because of the quality of home, and the professionals in the area who are dedicated to servicing the needs of the community.  Brooklyn Real Estate Experts have been going above and beyond in servicing clients needs for years.
When purchasing a home there is a lot to know and check out.  So remember if you are going to purchase a home you don't have to do it alone.
Real Estate Seminars – Brooklyn NY

—
Call to find out when the next seminar will take place
—
Annette Fisher, Real Estate Salesperson, Cell: 347-291-7479, BRESRE Realty Inc.
This is a fantastic time to buy a property, and Brooklyn NY is a fantastic place to be.  If you already own a home you will find our seminars are chuck full of information for current home owners, as well as first time home buyers.

This is what  Mike Baglivo a Home Inspector has to say, "you wouldn't buy a car without knowing how to use it, so why would you buy a home with knowing how to use it."  At our real estate seminar you will meet with experts in their industries.  What's important is to meet the people who know how to help you protect your real estate investment.  A Home Inspector, will also help you to identify whether you have any termites, so your real estate doesn't crumble from within.  He also specializes in getting rid of bed bugs, as well as, other rodents.

You'll not only meet Mike the Real Estate Home Inspector.  You'll meet Annette Fisher, CSA Certified Senior Advisor, and a loan originator at Fort Funding Corp.  Annette will educate you on the basics of how reverse mortgages work, as well as renovation loans.  If you have equity in your home and are finding it difficult to make ends meet, you may find a reverse mortgage is the answer to your prayers.  This will give you a chance to clear up some of the mystery their seems to be regarding reverse mortgages.    In addition there are government programs available with the assistance that will allow you to finance renovations into the loan.    She has also created created a product called WalletICE TM, In Case of Emergency it Can Save Your Life.  She will distribute WalletICE TM at the event.

Then their is Frank Tamayo another expert in the mortgage industry, specializing in conventional home mortgages.  Frank comments, "Constantly I listen to people saying they are having difficulties with various banks and getting their loans processed.  A lot of this may have to do with the individual they are doing business with. "  Frank brings with him more than a decade of intense experience helping home owners.  The bottom line is according to Frank  "if you need a loan don't do it alone."
You'll want to speak with Rhea McCone as well.  Folks just don't realize how important it is to have a title company that is on the ball.  Again it boils down to people and how they run their business.  An owners policy is of particular importance to the homeowners.  It is what protects them not the bank.  Come find out what you need to know.  This is important not only when buying real estate, it is important while you own your home, and when you may decide to sell your home.
An Attorney is such an important part of your real estate process.  Whether you are buying or selling you should have a real estate attorney.  Robert Howe has been practicing real estate law for more than two decades.  He is up to date on the current laws, and is also an expert in the field of real estate law.

Tony Ciconne, is a local Insurance Broker, who has a full staff of qualified insurance agents, and claims professionals ready to answer your questions.  He says your in good hands with us.  No need to call some national 800 number when you have us here to answer your questions and help you should you need to process a claim.
Amy Schoenfeld the Expert Organizer can help you clear out years of clutter, organize your files and cabinets.  If you want a new look she can help you decorate as well.  If you are looking to sell your home you especially don't want to miss out on Amy's Staging Services.  You don't want to miss out on the extra thousands of dollars staging can bring you with your home sale.  Why would you allow your real estate to sell for less than it is worth.  As you are most likely aware homes in Brooklyn NY sell for hundreds of thousands of dollars.  If a prospective buyer wants to chew down the price of your real estate it is easier for them to do so if you do not have enough people making offers.  If your house is airy and fresh with a fabulous layout you will get more offers.  Let's just do some simple arithmetic if your real estate is valued at say $400,000 and offers you 10% less that is $40,000.  It's far more cost effective for you to call Amy than to give away your hard earned real estate dollars.
So whether you live in Bay Ridge, Dyker Heights, Bensonhurst, Park Slope, Sheepshead Bay, Brooklyn Heights, Flatbush, East New York, Cobble Hill, Marine Park, Dumbo, or any other part of Brooklyn you can be sure once you come to a one of our seminars full of Brooklyn Real Estate Experts you will leave fully charged.

The Brooklyn NY Community, is rumbling with gentrification.  Hardly a neighborhood is untouched.  In 2008 we saw a major banking crash, and Brooklyn manage to hold it's own through all of that.  Currently there is not much inventory available, which in turn is causing prices to rise.
When buying or selling a home there is a lot to know and keep track of .First figure out you budget.  Get pre-approved for a mortgage.  Most Realtors will not want to take time showing homes to customers who have not been qualified.
You need to know how much you can afford to spend before you jump in.
Now you need to narrow down the neighborhoods that fit your price range
List the community amenities you are looking for
Find out what the taxes are
Be careful, a property may have a tax abatement and if it has run it's coarse can you afford the real estate taxes
Get quotes for insurance
Is the property in a flood zone and can you get flood insurance
Are there any association dues
Have a home inspector check the place out
You may want to test for lead paint if the home was built prior to 1978
If the home inspector see problems, maybe you want to get some estimates to cure
Hire a Real Estate Attorney.  They can save you a bundle just by guiding you.
You probably have heard the saying location, location, location.  It is all about location and Brooklyn NY is the place to be.
Buying or Selling A House? A great Real Estate Team Covers All Aspects

For those who want to buy or sell a house, the process is becoming much more efficient and reliable, thanks real estate professionals who properly guide their clients.
Brooklyn Real Estate Experts – Are busy trying to find inventory.
From brown stones in Park Slope, Williamsburg, Fort Green and Bushwick to the Shores of Coney Island real estate in Brooklyn has been moving steadily up in price.
If you are waiting to save enough for your down payment you should talk with a mortgage professional to see what programs are available for you to purchase with perhaps a substantially reduced down payment.
Brooklyn Real Estate Experts
Did you ever wish you could rub a magic lantern and have a genie pop out whenever needed?
Well when it comes to real estate you will soon feel like you have your very own magic lantern.
When it comes to your real estate needs you will have access to the best Brooklyn has to offer.
We're talking about those professionals that can make all the difference, when it comes to matters of the home.
Do you ever worry about buying a home, because homes can sometimes have many challenges.
Wouldn't it be nice to have an instant local real estate power team on your side?

Whether you are looking to purchase real estate, search the for a clear title to the property you wish to purchase, insure real estate, or have your real estate inspected by a ASHI, NACHI Certified Inspector, get a mortgage or remodel you will find having a team of experts will
allow you to sleep at night.